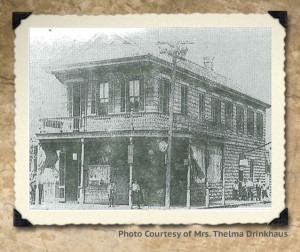 Built in 1895, this historic structure first opened as Gretna Pharmacy in downtown Gretna.  Gretna Cut Rate Drug Store, corner of Second Street at Huey P. Long Avenue, shows Theodore Drinkhaus leaning on post, ca. 1900. The building was later occupied for many years by the Gretna Pharmacy of N.C. Richard and Ernest Vicknair.
Since then, the building has served westbank residents as a dentist office, shoe store, law office, mortgage office, and campaign headquarters. 

In September 2010, Huey P's pizzeria opened at 139 Huey P. Long Ave. by Betty Archote and quickly garnered the reputation for serving the best thin crust pizza and coldest beer in metro New Orleans.
Huey P. Long Avenue is the most famous street in Old Gretna stretching from the Mississippi River to the Westbank Expressway with many Historic Gretna Landmarks along the way. Starting from the Mississippi River, which is the second longest river in the United States; you see the notable Jefferson Memorial Arch which serves as a memorial for all the brave American soldiers who fought in The War Between the States, the Spanish-American War, World War I and World War II. The Gretna City Hall is our neighbor across the street, and Jefferson Parish Court is one block away.
Keep walking or driving ahead and you will find the gem of the city, the Southern Pacific freight depot built in 1905 that now hosts the Gretna Visitor's Center. In the front of the Visitors Center is a statue of Mel Ott, a Major League Baseball for the New York Giants, born in 1909, whose name you recognize from Mel Ott Park off Belle Chasse Highway.
Another jewel is the German-American Museum at 519 Huey P. Long Avenue which welcomed the arrival of German immigrants to Gretna.
Visit David Crockett Volunteer Fire Department which is the oldest continuously active volunteer fire department in the United States, and just around the corner from Huey P's at 1136 Lafayette St, Gretna, LA 70053.
Enjoy a Huey P's pizza as you learn about Old Gretna and celebrate Gretna's 101 year anniversary!